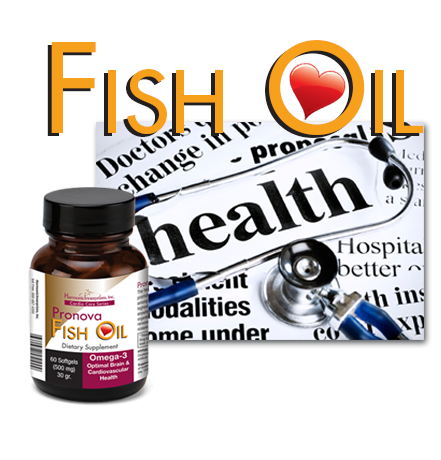 Hundreds of studies suggest that omega-3s may provide some benefit to a wide range of health needs. 
Fish oil has profound health benefits to the cardiovascular system. According to the American Heart Association, fish oil helps support proper cholesterol levels.*
For these and other reasons, the Department of Health and Human Services (HHS), the U.S. Department of Agriculture (USDA), the American Heart Association, and the American Dietetic Association recommend eating two 8-ounce servings of fish each week. Unfortunately, fears about mercury and other pollutants may have caused Americans to start eating less fish. But fortunately, there is now a fish oil so pure, it is actually classified as pharmaceutical grade.
What about Mercury and Other Organic Pollutants Found in Fish?

Harmonic Innerprizes' Pronova Fish Oil is the Cleanest, Purest Fish Oil Available in the World Today!*
Very seldom are conditions such that a supplement may be a superior choice for a particular nutrient than a food source. We are not suggesting to completely give up eating fish, but unfortunately the oceans have become so polluted that extraordinary caution has to be used. Fortunately, there now is a fish oil whereby you can receive all the health benefits of the Omega-3s without having to consume high quantities of fish. 
The most prevalent and dangerous toxins found in fish are heavy metals, particularly mercury, and POPs (Persistent Organic Pollutants), of which PCBs are the most problematic health concerns. 
Pronova's unique and patented refining process effectively removes all these contaminants. Fish Oil is also highly susceptible to oxidation during processing. Oxidation can effectively limit the shelf life of fish oil and diminish many of its health benefits. Pronova/s process inhibits oxidation thereby guaranteeing maximum freshness. Every batch is also tested for radiation; which is a growing concern especially since the Fukushima disaster.
The Facts Are Clear: Fish Oil Has Amazing Health Benefits and Harmonic Innerprizes Pronova Fish Oil is the Purest and Safest Fish Oil in the World.